How to stay safe and still have fun this Halloween
Last year, by this point, I was pumping out loads of content about pumpkin patches, Halloween events, and tonnes of stuff to do during October half term.
Unfortunately, this year, Covid-19 has sucked the fun out of everything, and we're not sure what's going to happen over the next few months.
The shops are still filling up with fancy dress and sweeties. By now, businesses would be planning their events, and there are still some on, but parents are nervous about over promising too much to the kids.
So what can you plan that might actually be able to happen?
Well, given that we're all under the latest 'rule of six', bigger parties are out.
And it's likely that our neighbours will be unsure about people coming onto their properties for the usual trick or treating.
There are still fun things that we can do for the kids to have a safe Halloween though.
I actually wrote an article last year of Halloween ideas if you don't like trick or treating, most of which are still doable if you'd prefer to stay home.
This year however, I am focusing on something closer to trick or treating, but without the social contact.
Safe Halloween trail
If you live in a small community, why not plant clues for kids to find, design a trail sheet of clues or list of locations, and make it part of your exercise for that day.
It could be as simple as putting a picture in your window, or more elaborate decoration of front gardens.
Obviously, the main thing to remember is that you don't want to encourage too many groups of people congregating together. Try to stay within your own households and socially distance at all times.
Organise trick or treating ahead
You might still feel OK about letting the kids trick or treating with some friends. The safest way to organise this is to agree with a select number of households who are happy to participate, and prepare for little visitors.
Perhaps agree time slots between participants to stagger visits. The kids don't have to know that it's this organised – they will just be happy with the stash they grab!
Keep your face masks and hand sanitiser gel with you at all times in case the kids don't quite follow the brief!
Again, remember not to mix with each other – keep everything at a distance.
Leave prepared treats away from your front door
To reduce touching of your doorbell or gate etc. try to leave some pre-prepared goodies somewhere easy to find.
Use individual plastic bags with a set amount of treats out for them to grab, and maybe even have little table to walk by and pick them up as they go.
As a courteous touch, also leave some hand gel too.
Decorate your face mask
If you have plain face masks, you could use colour safe markers to let the kids decorate make their own 'scary' versions.
This could be as easy as creating a 'jack o'lantern' smile using a Sharpie pen. Or you could buy some Halloween themed face masks for the occasion.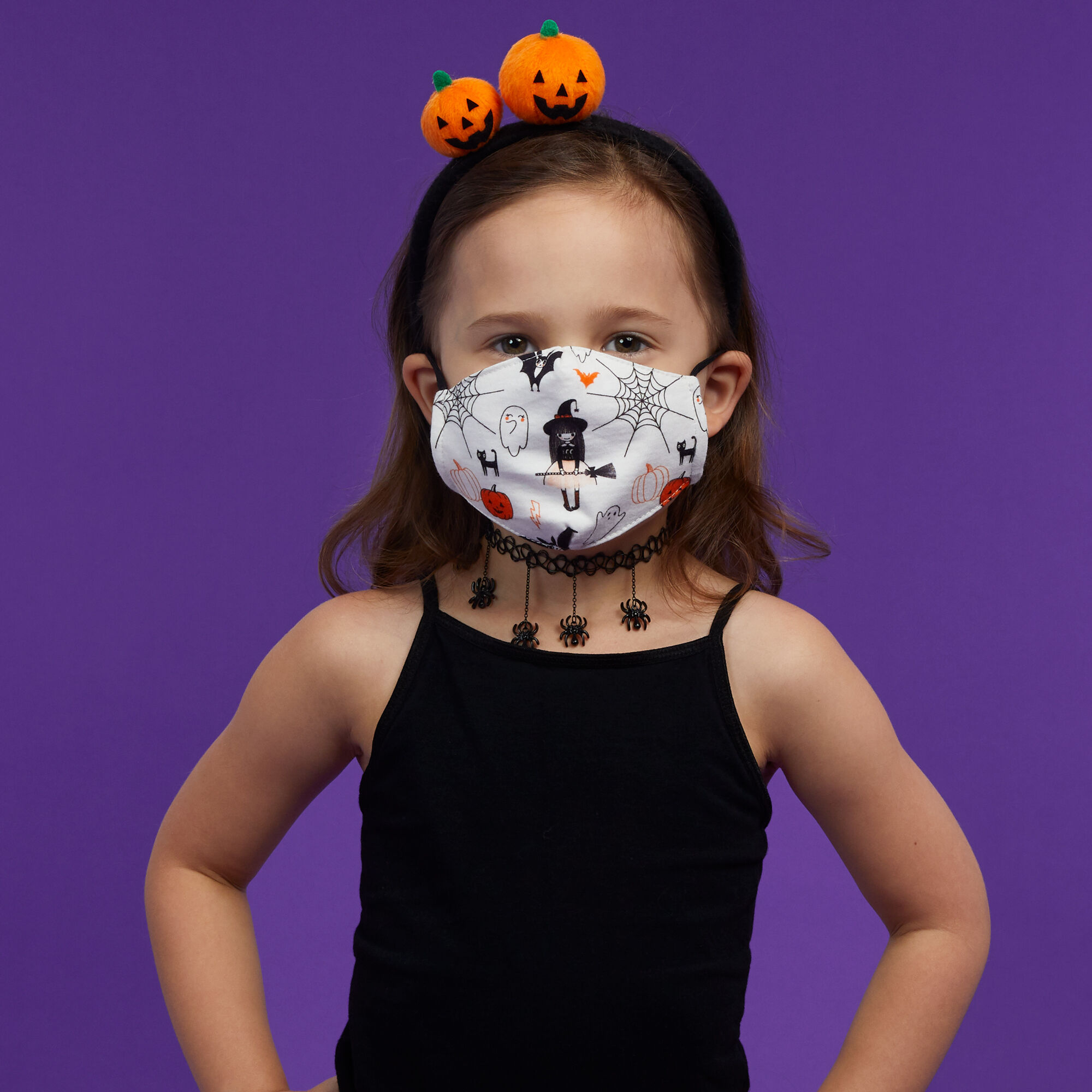 Halloween fun at home
If the kids are desperate to have some Halloween fun but you just don't like the idea of trick or treating, why not just have some fun at home?
Read our other blog of Halloween ideas if you don't like trick or treating for some inspiration.
Overall, the things to remember for a Covid-19 safe Halloween are:
Stay to small groups from your own household
Wear a face mask
Don't touch anyone else's property where possible
Keep using hand gel throughout
And remember…
We're still pulling events together over on our Facebook page, so pop on over to see if there's anything near to you. Please always check ahead however, as these may be cancelled at last minute depending on the latest advice.
This article may contain affiliate links.