Which one is your favourite?
When I was younger, the only kids advent calendars on the market were the chocolate variety.
We got to open a teeny tiny door, and get out the smallest piece of chocolate, that often tasted a bit like sick.
Cadbury or Haribo advent calendars weren't an option. Or, we never had them anyway!
These days, there are literally hundreds of the things, for every taste going.
So which ones are you looking for this Christmas?
Chocolate advent calendars
Of course, these are still the tradition in most households. No child will ever say no to a daily treat that they are allowed to each before breakfast.
Only now, depending on what you want to spend, there is just so much choice.
Your budget chocolate advent calendars will start popping up around now, if they haven't already. Look out at Aldi, B&M, Home Bargains and other discount stores for advent calendars starting from around £1 each.
Other supermarkets have also begun stocking up for Christmas, filling their seasonal aisles. At the bigger shops, you'll find the cheaper options, but also tastier choices too.
The Cadbury advent calendar is always a good starting point, for around £2. If you'd prefer non-chocolate, there are jelly sweets, savoury snacks, and even varieties to cater for special dietary requirements.
Toy advent calendars
If you want to spend a bit more and buy something with a longer shelf life, you can now buy advent calendars that give a toy each day.
These are so exciting for little ones, especially if they are already linked to their favourite toys. These are from around £20 usually.
Some of my favourites are:
The Playmobil 1.2.3 Christmas in the Forest advent calendar with a massive hit with my kids last year. Each day they open to find another piece of the overall Christmas scene that we plan to use as an annual decoration.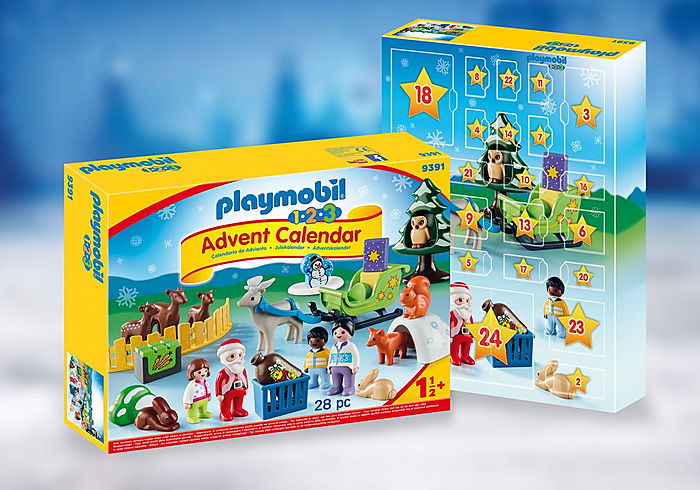 For older ones, Playmobil has other scenes such as Santa's Workshop, Christmas Ball, Fire Rescue, and Horse Farm. You'll struggle to choose which one is coolest!
The L.O.L. Surprise! Advent Calendar 2020 is a must for any fans of these toys. They will open a doll, and all of her outfits across the month. These sell out quickly though, so if you want one, you might want to get it now.
LEGO Star Wars is a brilliant option for boys and girls. Behind each door will either be a minifigure, LEGO figure, buildable starship, vehicle or location.
Check out the other LEGO choices, including LEGO Friends, Harry Potter, and LEGO City.
You will find so many toy advent calendars easily, whatever your child is into!
Make your own
If you'd prefer a more sustainable advent calendar, you could make your own.
Christmas is well and truly in swing at Hobbycraft with loads of fillable advent calendars that you can decorate yourself.
These are usually reasonably priced, and offer a fun activity to get the kids involved with, helping to personalise their own calendars that they can use year after year.
Fill the little boxes with treats, little toys, stationery, or if you'd prefer, a dare, joke, or positive quote.
The world is your oyster with these ones, and there are options from as little as £5.
Stationery
This one definitely appeals to me. I am a self-confessed stationery geek!
Paperchase has launched this Sugar Plum Fairy advent calendars for stationery lovers, with contents worth £40. Openers can expect to find hair accessories, pens and pencils, sticky notes, erasers more.
This would certainly have been one for me as a child. Priced £25.
Books
If you'd prefer the kids to open something more useful this year, why not think about a book advent calendar?
The Works has a readymade Disney book advent calendar, with 24 seasonal Disney books to share a new story together each day from £12.
Of course, you could always wrap up 24 of your own books and let them open them each day too. Look out for book details at discount stores and create your own excitement.
Which will be your favourite?
This article may contain affiliate links.