The last few days of the summer holidays is usually spent preparing for back to school, or getting ready to start school.
This year is a particularly unusual one, as for many it probably all feels a bit alien.
Kids have spent longer away from school recently than they will have in school. Those children who are due to start start school in September haven't had the same experience due to covid.
Parents of children starting reception in a matter of weeks won't have had the same face-to-face contact. Visits to the school, meeting the teacher, and parents will have been bombarded with even more information to sift through.
It can be overwhelming.
So I'm guessing that a few tips, tricks and things to remember might come in handy?
Back to school checklist
Uniform. Luckily for us parents, uniform is usually sized up, and made to last longer. This means that hopefully it can last for most of the school year (or at least until there's a change to a summer uniform). Don't discount 'cheaper' places to buy uniform such as supermarkets, as these are often parents' favourite go-to options. ASDA, Sainsbury's and M&S are personal favourites of mine.
PE Kit. Most children have PE at least once or twice a week, and may even go to after school sports clubs too. Buy at least two sets and keep them both washed and clean each week. You'll probably need gym pumps too, so again, look to supermarkets where you can buy them for a few quid. Winner! Buy a simple drawstring PE bag to keep it ready at all times.
Labels. All items will need to be labelled, especially in light of social distancing. Kids can lose items on their first week, so putting their name in will help school to return them. I personally love Stamptastic for clothing and Tiny Me for adhesive labels that can be put on lunch boxes, bottles or stationery.
Shoes. Most parents head to the old favourites such as Clark's or Startrite. There are lots of independent retailers to also choose from though. Look around for local businesses who can offer alternatives, and of course supermarket options again.
Raincoats and winter coats. The autumn term is one where even the weather is confused! Have a lightweight raincoat as well as a winter coat, ready for days when the cold hits without warning. Your school may even ask you to provide waterproofs or a splash suit too.
Accessories. Kids will probably need hats, scarves and gloves as back up for colder days. Likewise, there will also be days when you'll need to pack sun hats and sun lotion. Hand sanitiser will also be required. Make sure that all extras are labelled and okayed by the school before drop off.
Lunch boxes and water bottles. Packed lunch may be the only option at your child's school for a while, or perhaps fussy eaters will plain refuse school meals. Pick a lunch box with compartments or small containers to keep contents separate, and pack inside an insulated lunch bag. Always provide a water bottle that can be refilled, and on warmer days, an ice pack might be a good idea. Again, label, label, label!
Don't forget!
To check that everything fits with enough time to re-buy if necessary. A bigger size is fine, but you don't want things to be too small.
Get everything out and check it's all there for at least the first day.
After that, get uniform ready the night before to help with the school run rush.
Check that you have both shoes. You won't believe how often two of the same foot will be put in the box when you buy them!
Set reminders on your phone for weekly recurring activities such as needing to take PE kit or return reading books.
Ask your school if there is a second-hand shop for school jumpers or bags that are usually in good condition.
Know where the hairbrush and bobbles are kept!
Keep a spare toothbrush and toothpaste in a downstairs toilet or in the kitchen – anywhere in easy reach!
Stash some healthy snacks in the glove compartment or your handbag for starving kids when you pick them up!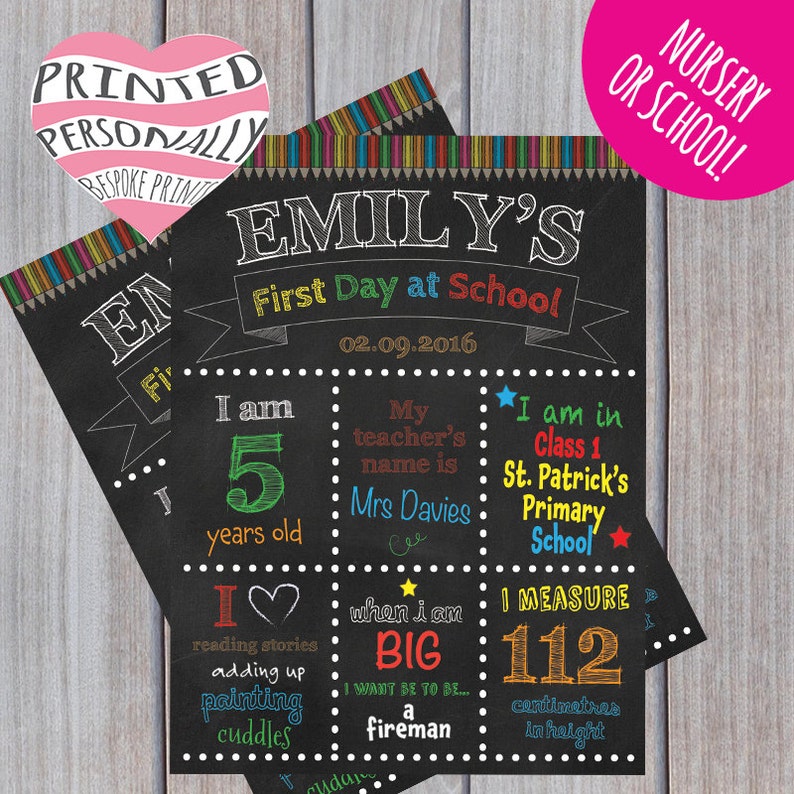 Remember, to take that first day of school photo on the front doorstep!
It's one for the memory book! And also remember to take a last day of term one too so that you can see how much they've grown.
And finally…
Don't worry if your child gets upset. It's normal. Likewise, if your child goes in without looking back, that's typical too.
Behaviour might be interesting in the first few weeks of school. Some kids haven't been in school for months now. They will be out of routine, they will be tired, and everything might be different for a while. Again, normal.
Remember, each child is their own person, so they will have their own reactions to school.
Wishing you the best of luck for the new year ahead.